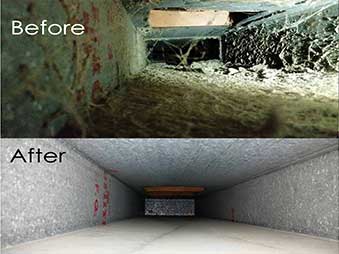 The Air duct cleaning process is crucial to the quality of the air we breathe. Custom air purification treatment plans are developed by our specialists and have both restoration or stand-alone applications. For example, after a fire, it is very possible smoke and soot particles are absorbed into the building's ductwork. If not treated properly, those contaminants become part of the breathing air by being pushed through the heating, ventilation, and air conditioning (HVAC) system. Additionally, airborne contaminants can build up inside the ductwork, creating an ideal breeding ground for mold, bacteria, fungi and other microbes.
Air duct cleaning is essential for commercial and residential buildings because the ductwork carries the air (and possible mold or other contaminants) we breathe! Air purification processes have multiple benefits and are an important piece in the recovery services "AK CLEANING SERVICES DUBAI" provides, as well as a proactive solution to indoor air quality considerations.
The duct cleaning services – AK Cleaning Dubai is able to provide are unmatched in the industry. We know this is true because we have well trained HVAC technicians and duct cleaning crews at most reasonable prices.
No job is too big for AK Cleaning Dubai – whether it is a 30-story building, a 3,000-room hotel, or a 200,000 square foot shopping center. AK's commercial duct cleaning professionals respond to large-scale projects. They perform a thorough, effective, and efficient heating, ventilation and air conditioning (HVAC) system cleaning and reconditioning without interrupting the flow of business.
Here are the complete services we proudly offer your business:
Healthcare Facility Services
HVAC Restoration
Condenser Coil Repair
Mult-Unit Dryer Vent Cleaning
Mold, Fire, and Water Damage Remediation
Duct Sealing
Microbial Decontamination & Treatment
Mechanical System Assessment
For more information on Air Duct Cleaning Dubai – Contact us at +971 55 123 1234 or Email on akcleaningdubai@gmail.com
We Are A Complete Solution For